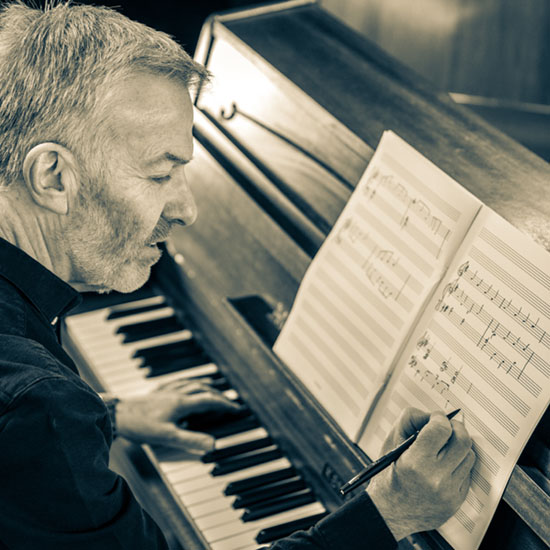 Originally from Talysarn in the Nantlle Valley, Robat Arwyn graduated in Music from Cardiff University in 1980 before gaining a Librarianship Diploma from Aberystwyth University in 1981. He was Denbighshire County Council's Principal Librarian for over twenty years, but has now retired to concentrate on his music. He lives in Rhuthun with his wife Mari and has two grown up children, Elan and Guto.
He has been a member of Côr Rhuthun (Rhuthun Choir) since 1981, and has been the accompanist and has composed pieces for the choir since 1987. Sadly, in October 2007, the choir's founder and conductor, Morfydd Vaughan Evans died, and Arwyn took over as conductor.
He was also a member of Trisgell between 1982 and 1995. This was a trio formed by Arwyn and two friends who sang with him in the basses in Côr Rhuthun, Arwyn Vaughan and Llion Wyn.
Robat Arwyn has published 13 volumes of songs, a variety of individual choral pieces and nine musicals, including Er Mwyn Yfory and Plas Du.
Over the years he has been commissioned by the National Eisteddfod, the Urdd, Radio Cymru and the Young Farmers Movement, as well as the London Welsh Male Voice Choir, Bois y Castell, Côr Seiriol and many other choirs.
Atgof o'r Sêr was the commission piece for the Denbighshire National Eisteddfod in 2001 which was written for Bryn Terfel, Fflur Wyn and Côr Rhuthun. During the Eryri National Eisteddfod in 2005 Er Hwylio'r Haul was performed by Bryn Terfel, Mari Wyn Williams and the Eisteddfod's Youth Choir. The first performance of his new work, Hwn yw fy Mrawd will be performed in the National Eisteddfod in Cardiff this year. The work is a biopic depicting the life of actor and singer, Paul Robeson and his strong links with Wales. Once again, Syr Bryn Terfel takes the lead role.
His latest commissions include Hanes creu popeth yn y byd (Story of the creation of everything in the world!), words by Mererid Hopwood. Work commissioned by the North Wales Music Festival for Côr Rhuthun, Côr Cytgan Clwyd and Ysgol Pen Barras Choir; Pan fo geiriau wedi gorffen for John Ieuan Jones; Lle mae llais yn cyffwrdd lleisiau commissioned by the American Welsh Choir.
He travels all over Wales with The story behind the song when he performs some of his songs, including Yfory, Anfonaf Angel and Benedictus, and explains the stories behind them.
He will be presenting another music series on Radio Cymru on Sunday mornings in the Autumn.